AWB Condos | Anthony Wayne Building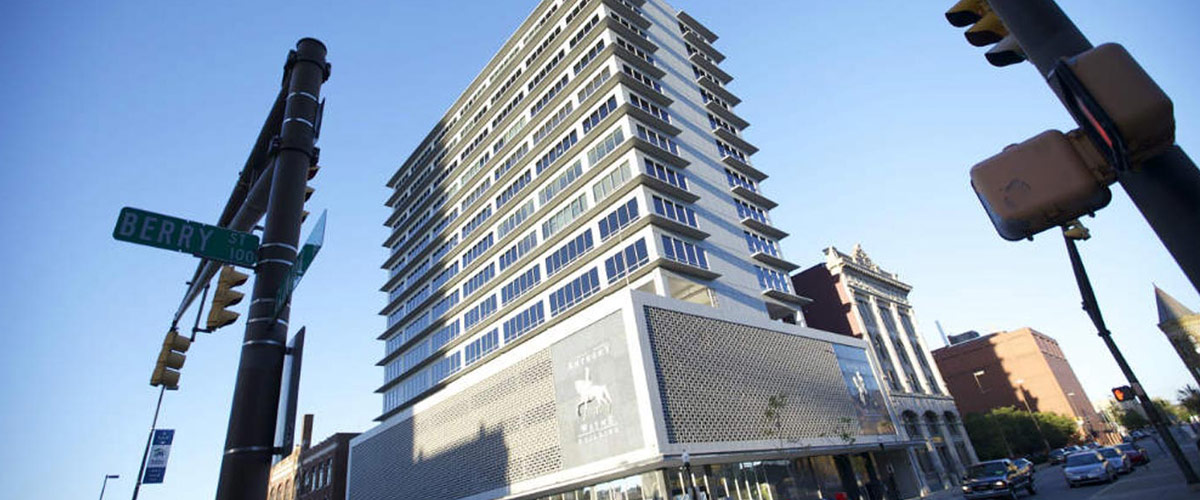 Project Description
In 1963 the Anthony Wayne Bank opened its doors in downtown Fort Wayne, Indiana. After many years as a multi-tenant financial building, the bank closed and other offices in the building soon moved out. The AWB, as it came to be known, sat nearly 90% vacant for years. And then RCI got hold of it.
The partners purchased the building in September 2011 with the notion to convert it into something a little out of the ordinary for the Fort Wayne real estate market. Paying tribute to the building's original purpose, RCI kept the Anthony Wayne Building name, and the development team focused on turning the site from 1960s office space to modern, high-end residential condominiums; something the city had never seen before.
It was a first for RCI as well. They had worked on subdivisions and office/retail complexes in the past, but nothing like this. Despite the unconvinced media and some residents, RCI began renovations on the nearly $17 million Anthony Wayne project with full support from the city in Fall 2011. They demolished everything down to the concrete shell in the 100,000 square foot structure and basically started over from HVAC to electrical, water and sewer to windows.
The new Anthony Wayne rebuild consists of 15 stories with four floors of parking, three floors of commercial space, and eight floors of luxurious, fully customizable residential space with breathtaking views of the city's skyline.
RCI has worked with high-end homebuilders and architects to design personalized space in each unit. Although Anthony Wayne was once a bank, the condos are contemporary, comfortable and homey; and buyers are embracing the vision.
Price tags for the living space start in the six figures and go up from there as the area increases in size and customization. To the surprise of skeptics, Fort Wayne residents are more than willing to pay the cost for the chic downtown locale.
In 2012, as recognition of their efforts for this project, RCI received the Swagger Award for downtown improvement presented by the Fort Wayne Allen County Economic Development Alliance. After some initial criticism, the Anthony Wayne Building renovation project has emerged as a downtown gem, with buyers vying for a spot on the active scene. RCI has turned a once nearly hollow shell of a downtown building into luxury urban condominiums with sweeping skyline views. The hugely successful project has not only proven a money maker for investors but also the stepping stone for revitalizing a once thriving downtown community.
For more information about the Antony Wayne Building Condominiums, please visit: http://awbcondos.com.